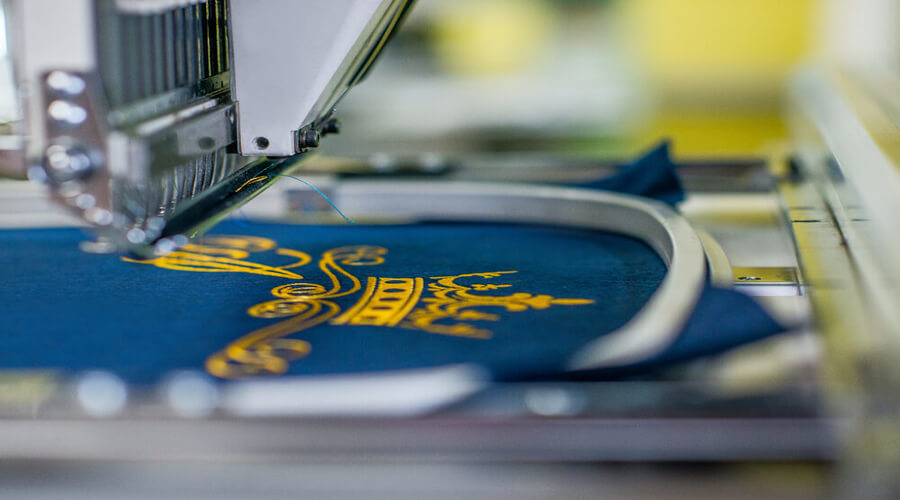 The Main Types Of Embroidery Techniques
Author: Mecca Sports Date Posted: 11 November 2021
Embroidery is a wonderful way of adding customisation or a personalised touch to a product, especially one which you're wearing multiple times a week when representing your sports club or school. There are numerous different types of embroidery, each with a rich history.
Read on to find out more about the various types of embroidery, their traditional uses, and how we use embroidery here at Mecca Sports!
Types of embroidery
Cross stitch
Perhaps the most well known, and one of the more simple embroidery techniques to master. The cross stitch consists of small X-shaped stitches being placed next to each-other in a tile like manner. Cross stitch is traditionally used to embellish household linens such as tablecloths and napkins. It is a very old technique, some of the earliest examples of it found to be from AD 850!
Outline embroidery
Outline embroidery is a basic stitch used most commonly in outlining or filling shapes. It is great for creating smooth lines which can be used both on straight edges and curves. Outline embroidery is often used to create designs on clothing, and is usually done by hand. It is extremely popular today, and often used on clothing for decoration. Outline embroidery usually uses a form of stitching called 'stem stitching'.
Whitework embroidery
Whitework embroidery refers to an embroidery technique where the embroidery stitching is completed in the same colour as the foundation fabric. It traditionally uses all white materials, hence its name.
Candlewicking embroidery
Candlewicking is a form of whitework embroidery, traditionally using white thread on a white foundation material. Candlewicking makes use of a very particular technique which involves 'colonial knot stitching', which is a very sturdy form of stitching which involves lots of knots placed close together.
Blackwork embroidery
Blackwork, like its name gives away, is a monochrome form of embroidery. It usually depicted geometric and/or floral designs using an even weave fabric. It was traditionally used in 16th and 17th century Europe to decorate clothing accessories such as caps, collars, cuffs and sleeves. Not only did it decorate clothing, it actually helped reinforce it, and hide dirt.
Redwork embroidery
Redwork is a type of American embroidery which originated in the 19th century. It is also known as 'art needlework'. It traditionally uses red threads, as at the time it originated, red dyes were the first to be commercially available. It usually consists of outlined shapes with minimal filled areas. It usually uses stem stitching, split stitching, satin stitching, or French knots.
Crewel embroidery
Crewel embroidery or 'crewelwork' is an ancient form of surface embroidery which originated in the 13th century. It traditionally uses wool or yarn. As wool is thicker than your standard cotton thread, it creates a raised textured look on the surface. Crewelwork became extremely popular in the 17th and 18th centuries and was used to decorate bed hangings, bed linens and curtains.
The rise of the embroidery machine
As beautiful and intricate hand embroidery can be, it can be incredibly time consuming, costly and leaves room for inconsistencies when embroidering multiple items.
Machine embroidery can provide a very precise and professional finish in a fraction of the time it would take to complete the same design by hand. In the past, embroidery wasn't accessible for everyone, as it was extremely time consuming, expensive, and provided the skills of a professional.
Nowadays, machines have completely revolutionised various industries, and this is no different to the clothing industry. Embroidery has become more accessible thanks to embroidery machines, which are standard in the commercial clothing industry.
Benefits of using an embroidery machine
Reliability:

An embroidery machine can be programmed to replicate a particular pattern, image, logo or lettering multiple times with high accuracy. This is extremely important when producing a larger number of embroidered product
Faster turnover:

A machine can undoubtedly work at a faster pace than a human. This saves time when completing larger orders. A machine will work at a constant pace without fatigue, so a better time estimate for embroidery completion can be given.
Lower cost:

Due to the reduced human labour and reduced time, embroidery can be completed at a lower cost. As there is much less room for error, materials will not be wasted in the embroidery process.
Greater accuracy:

This allows your embroidered design to be produced over and over again with perfect symmetry. This is paramount in products like

sports uniforms

, where the design needs to be recognisably the same on each item.
Better durability:

As embroidery is stitched into the fabric, it is permanent. Although digital printing is also a fantastic option, it does risk slight deterioration over time. With embroidery it will last for many years to come. Embroidery is synonymous with high quality and also adds a hint of luxury to your garment.
Custom embroidery for sports uniforms
Here at Mecca Sports, we have several in-house embroidery machines which produce precise and professional looking embroidery work. We are flexible and are able to cater for small or large orders depending on your uniform needs.
We have been tasked with embroidering all types of sports uniforms, from soccer uniforms, netball uniforms and more. We are dedicated to providing that professional touch to all of our custom sports uniforms.
The design options are endless, and we even offer the services of our graphic designer to help you come up with your own design or logo if you are just starting out. Reach out to us to learn how to integrate embroidery into your team's sports uniforms, or to learn more about our sublimated uniforms.