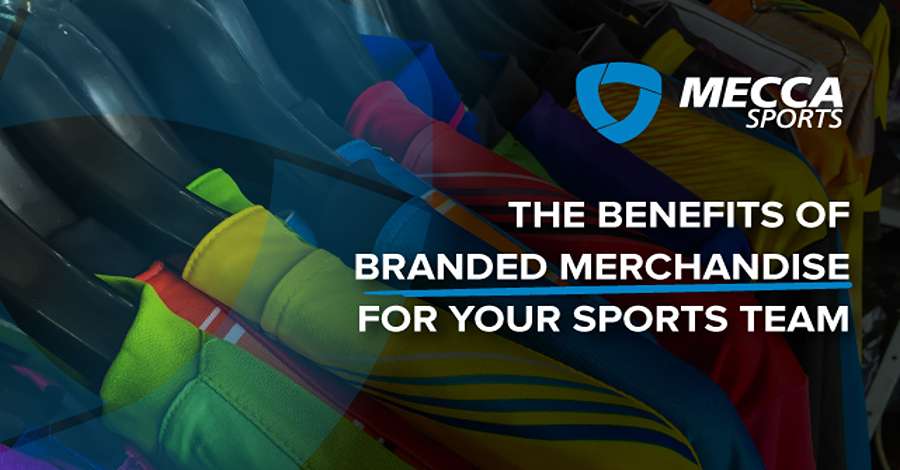 The Benefits of Branded Merchandise for Your Sports Team
Date Posted: 19 May 2022
Merchandise is an important part of any sports team. It helps fans feel closer to their favourite players and groups. It can also serve as a great marketing tool to promote the team and bring in new fans.
If you are in charge of a sports team, you know that keeping your players motivated and excited is essential to success. One great way to do that is by providing them with branded merchandise.
In this blog post, we'll discuss the benefits of branded merchandise for your sports team. We will also give you some tips on choosing the perfect items for your athletes.
What Is Branded Merchandise?
Branded merchandise is exactly what it sounds like: items that are emblazoned with the logo or name of a company or organization.
Some may think that custom wear and branded merchandise aren't necessary, especially for amateur sports teams, but think again. Over time, it has been shown that when coaches and sports managers give out branded gear to their athletes, it can help increase team spirit and performance.
It's a great tool to market your team while promoting a deeper bond among the team members.
The Best Sports Team Merchandise
When it comes to sports team branded merchandise, there are endless possibilities. Here are the best items that you can get for your team:
1. Polo Shirt, Tees, and Hoodies
A classic polo shirt, tee, or hoodie is always a great choice for branded merchandise. There are loads of customisable options, and you can also add designs and slogans that will promote your team.
Clothing items are versatile and can be worn by anyone. They are perfect for matches or practice, or even off the field as well.
All of our clothing garments at Mecca Sports are made from top quality fabric, so that your players will be comfortable wearing them all season long.
2. Track Jackets
Track Jackets are another popular item for sports teams. They make players feel like they're a part of the team, and they also look great when worn by fans.
3. Headwear
Headwear is a great way to show your team spirit. You can wear custom headwear with other branded merchandise, like a jersey or tee. Be sure to choose a style and colour scheme that will complement the rest of your team's gear.
4. Bags
Bags and backpacks are a must-have item for any sports team. They are perfect for carrying gear to and from practice or taking to games. You can find bags in various sizes and styles. Bags can be customised with embroidery, but we do have other personalised design options available. Reach out to us to find out more.
5. Custom Drink Bottles
A custom drink bottle is a great way to keep your players hydrated, and can be fully customised using your team's logo and colours. This is an excellent item for players and fans who want to show their team spirit during games or practices. Drink bottles can be also used off the field as well, which allows you to show your team support wherever you go.
6. Custom Socks
Custom socks are a fun and practical item for your team. Players can wear them during games or by fans to show their support. Custom socks can be made to match your team's colours and logo. We have a variety of sock styles available at Mecca Sports, including knitted socks, football socks, mid calf socks, crew socks and quarter-cut socks.
7. Custom Stubby Holders
Stubby holders are a great way to show your team spirit. They can be customised to match your teams' branding, and they're great for sports clubs, business giveaways or other events such as birthdays, hens or bucks nights and weddings.
Benefits of Branded Merchandise for Your Sports Team
Now that you know about some of the best items you can get for your sports team let's discuss the key benefits of branded merchandise.
Increased Exposure
One of the most significant benefits of branded merchandise is increased exposure. When players and fans wear branded gear, it helps promote your team to the general public. This can get your team's name out there, as well as potentially helping you attract new fans and supporters.
Boosts Team Morale
Another benefit of branded merchandise is that it can help boost team morale. When players feel like they are a part of something bigger, they are more likely to be motivated and excited about their team. This can lead to better performance on the field or court.
Builds Team Unity
Branded merchandise can also help unite your sports team. When players and fans wear the same gear, it helps create a sense of community and belonging. This is essential for any sports team.
Generates Revenue
Finally, branded merchandise can also help generate revenue for your team. When fans buy branded gear, it helps support your team financially. This can be used to cover expenses such as travel, equipment, or uniforms.
Get The Best Custom Branded Merchandise At Mecca Sports
Now that you know all about the benefits of sports team merchandise, it's time to choose the best team gear for you. Be sure to select items that represent your team well and will be worn with pride by players and fans inside and outside the stadium.
If you are looking for the best company to help you with your sports merchandising needs in Australia, be sure to contact us here at Mecca Sports. We offer a wide range of branded merchandise and custom teamwear in Australia that will help you market your team and keep your players motivated.
Take a look through our website to see the full range of our products and promotional items. Contact us for any queries regarding how we can work with you to create the best branded sports team merchandise for your team.