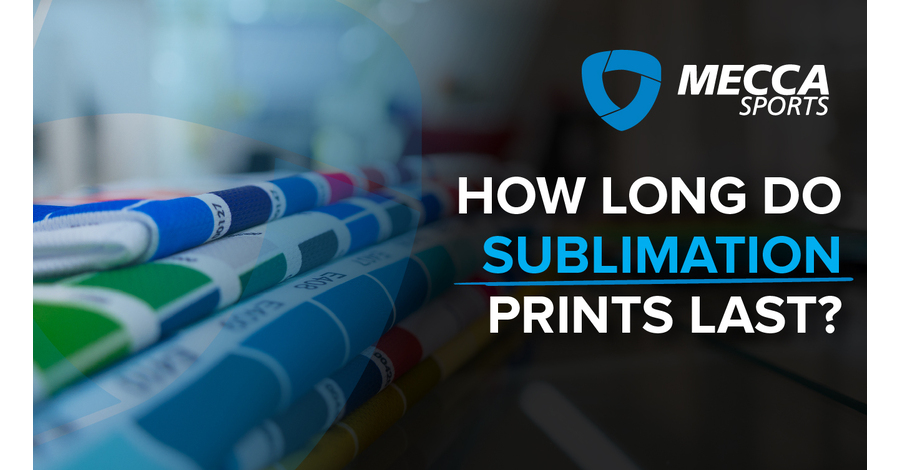 How Long Do Sublimation Prints Last?
Author: Mecca Sports Date Posted: 9 June 2022
Everyone loves a product with durability, especially when it comes to something we use often. When it comes to sports uniforms, many people want to know how long their sublimated prints will last before worrying about replacing them.
This blog will take a look at how long sublimation prints last and some factors that can affect their lifespan.
What is sublimation printing?
Sublimation printing is a type of digital printing commonly used in the garment industry. It refers to transforming a solid into a gas without passing through a liquid state. Sublimation printing is the modern-day solution to older printing technologies.
The design possibilities are unlimited, and sublimation printing results in a more durable, cost-effective, and environmentally responsible printing solution.
What can sublimation be used for?
Sublimation printer technology can be used to design any type of sportswear.
Sublimation is often used to print on polyester fabrics, as polyester melts down slightly to accommodate the sublimation ink; this results in a permanent print. Additionally, sublimation can also be used on other materials such as glass, aluminium, and even ceramic.
Customised digital graphic designs, small-batch orders, and seam-to-seam designs are all possible with sublimation.
Sublimation printing is also effective for designs that include many logos, such as a banner of sponsors. Other printing technologies may charge per logo, whereas sublimation allows several logos to be integrated into a digital design and printed all at once.
How long do sublimation prints last?
You can expect your sublimation prints to last a long time.
The lifespan of a sublimation print will depend on several factors, including the type of fabric, the ink, and how the item is used.
For instance, sublimation prints on polyester fabric will generally last longer than on cotton fabric. Additionally, using a higher-quality ink can also help to extend the life of a sublimation print.
Finally, taking care of the item and avoiding excessive wear and tear will also help to prolong the lifespan of a sublimation print. With proper care, a sublimation print can last through many washes for many years.
Types of sportswear that uses sublimation printing
The following is a list of some of our sportswear that can be printed using the sublimation printing method.
In a nutshell, sublimation printing technology can virtually create any type of sportswear. Feel free to reach out to us if you wish to query if sublimation will work for your printing needs.
How does sublimation work?
Sublimation in a printing context is commonly referred to as 'dye sub' or 'dye sublimation'. It involves printing graphics into fabric and is different to screen printing and embroidery, which both print onto fabric.
This is a subtle but important difference, and we will explain why below.
Sublimation is a printing process that uses heat to transfer dye onto fabric. Firstly custom design is digitally printed onto transfer paper, using a liquid dye. The transfer paper is placed on top of the garment. When the fabric is heated, the dyes turn into gas and sublimate, or fuse, into the fabric.
As the dye becomes embedded in the actual fibres - it results in a permanent print. This ensures your sublimated design lasts for a lifetime without cracking or peeling over time.
The benefits of sublimation printing in sportswear
Sublimation printing is an excellent choice for creating a distinctive and eye-catching design for your sportswear. This sublimation printing technique allows you to produce colourful designs that stand out on the field or court.
Here are a few reasons why sublimation printing is an excellent option for sportswear:
1. Long lasting and durable prints
Sublimation process is an excellent option if you are looking for high-quality, long-lasting prints, Sublimation prints can last for years without losing their colour or quality.
2. Comfortable
The sublimation print feel is one which feels lighter than embroidered or stitched-on methods. It is the greatest option for sports where more lightweight uniforms guarantee improved performance.
3. Vibrant colors
Sublimation printing allows you to print in any colour you want. It's the best choice for creating bold and colourful designs.
4. Unlimited design options
You are limited to many design options if you use another printing method, like screen printing. But with sublimation printing, the possibilities are endless. There are no limitations to the number of colours you can use, and you can create any design you want.
5. No colour bleeding or shrinking
When printing on fabric, colour bleeding and shrinking are two of the most common issues with standard printing processes. On the other hand, sublimation printing can avoid these problems since the prints are embedded in the fabric.
6. Sublimation works on recycled polyester (rPET)
Sublimation performs best on polyester fabric, including recycled polyester.
Here at Mecca Sports, we use recycled polyester for all of our custom garments, which is derived from plastic water bottles. We are committed to reducing our environmental impact, and this is one of our key initiatives.
Read more: The Real Benefits of Recycled Polyester
7. Faster printing process
With sublimation printing, your design is printed directly onto the fabric, which allows for a speedier printing process. Our sublimated orders tend to have a quicker turnaround than embroidery or other printing methods such as screen printing.
8. Environmentally friendly
Sublimation printing is a fantastic option if you're worried about the environmental effect of printing. The ink transfer process does not require water, and it uses less electricity and ink than standard printing processes. Combined with our use of rPET fabric, this process is a more sustainable method of producing batches of sports uniforms.
9. Budget friendly
Screen printing, for instance, is far more costly than sublimation printing. Sublimation printing equipment can process a large order quickly while maintaining uniform quality across all parts. This is an excellent option to consider when having customised uniforms printed for your entire team.
Get in touch with Mecca Sports for all your sublimation printing needs
Sublimation printing is the way to go if you're looking for high-quality and durable sportswear.
This innovative printing process quickly, efficiently, and effectively portrays your branding. Best of all, it gives you a huge range of design options to choose from so that your team's uniforms or workout gear will stand out from the competition.
Custom sublimated uniforms are key for your team to look and feel united. If you have any queries about our sublimation printing services for your sports team, please do not hesitate to contact us about how we can turn your vision into a reality.